These 25% Real Estate Lead Referral Sources Will Double Your Business
Are you struggling to find consistent, high-quality real estate leads to grow your business? Are you tired of relying on the same old methods that aren't delivering the desired results? You're not alone. The real estate industry is incredibly competitive, and staying ahead of the curve can be daunting. As a real estate professional, you know that a steady flow of leads is vital for success, but finding reliable sources can seem nearly impossible.
You've tried everything – cold calling, sending out mailers, attending networking events, and investing in online ads, but your lead generation still feels stagnant. You're not only frustrated, but you're also wasting valuable time and resources on strategies that just aren't cutting it. This lack of progress can take a toll on your motivation, and you may even begin to question if you're cut out for this line of work.
But what if there were untapped lead referral sources that could double your business? Imagine having a steady stream of high-quality leads from 25% referral sources, all working to boost your business growth. This blog post will reveal these hidden gems, providing the perfect solution to your lead generation woes.
By diversifying your referral sources and tapping into these lesser-known strategies, you'll increase the number of leads you generate and improve the quality of those leads, ultimately resulting in a thriving real estate business. Say goodbye to frustration and stagnation, and welcome a new era of success and growth in your real estate career.
How To Find 25% Real Estate Leads
Referral costs keep going up. Right now, 25% real estate leads are pretty rare. Most services are charging more. Still, there are a few that either charge fairly low rates or flat rates.
Look for leads that don't cost money. Find out whether your broker has contracts with some lead companies; they may have negotiated a better cut. When in doubt, talk to your colleagues.
If your real estate business isn't booked up, these referral sources are a great way to build your business.
AgentHarvest
AgentHarvest provides direct referrals for a 25% commission. There are also residential lease referrals offered through the platform at substantially less: 15%. The referral fee is due at closing, and there are no upfront fees.
One thing makes AgentHarvest uniquely great for real estate agents trying to build their local businesses. AgentHarvest can only ever use three agents in a given geographic area. However, all leads are sent to all agents in the area simultaneously. Real estate agents will compete with other agents–whether you secure real estate leads will depend on your response time.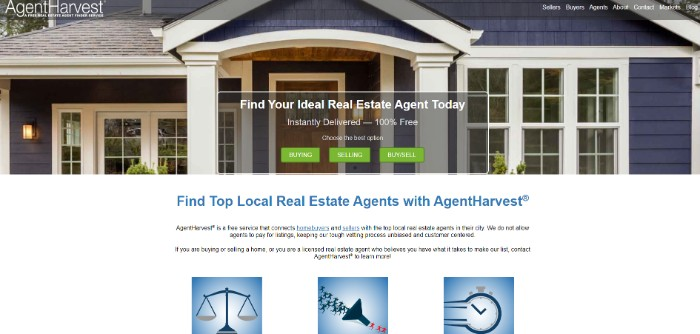 Once AgentHarvest accepts real estate agents into the program, their performance is monitored. A real estate business is graded on its response times, sales performance, and feedback. The better you perform on the platform (and the more real estate sales you close), the more leads will be funneled to you.
To apply, you will need to show proof of expertise within the real estate business, be a full-service real estate agent, work in the real estate industry as your primary occupation, and agree to always respond within a timely fashion to the referrals given.
AgentPronto
AgentPronto provides pre-screened referrals via email or text message, with information available such as their name, budget, and city. Like other similar products, it doesn't thoroughly screen each referral. It simply forwards them along. The commission fee can be anywhere from 25% to 35%.
To participate on the AgentPronto platform, you must be of legal age, hold a valid real estate license, and have insurance coverage for your region and area of expertise. But AgentPronto doesn't have very strict requirements; you must abide by their rules regarding how you interact with referrals.
Agent FixUp
This service pre-screens and matches agents but only matches a single agent at a time. They operate based in specific cities, with over 200 cities covered. The referral cost is a 25% referral fee; 25% real estate leads.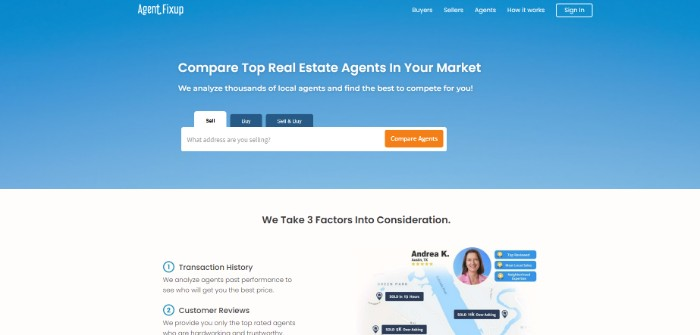 Of these services, Agent FixUp has some of the lowest qualifications. It only asks how many transactions you've closed within a year. However, they will track your performance on the platform, and you may be "demoted" if you don't close enough transactions.
Clever
When you close with Clever, you can pay a $3,000 listing fee or 1%. That being said, Clever also reduces the commission you can make through their platform, so there are trade-offs to the referral program. Clever costs nothing to sign up for, so there's little reason not to sign up for their service.
Clever requires that their agents have solid reviews, more than five years of experience, and a history of above-average negotiations. But they aren't 25% real estate leads because the commission is lower.
HomeLight
HomeLight uses a complex algorithm to match agents with the leads that they're most likely to close. The better you do with HomeLight, the more leads it will connect with you. It's among the most affordable 25% real estate leads referrals, charging 25% of half the gross commission or 12.5% of the total commission.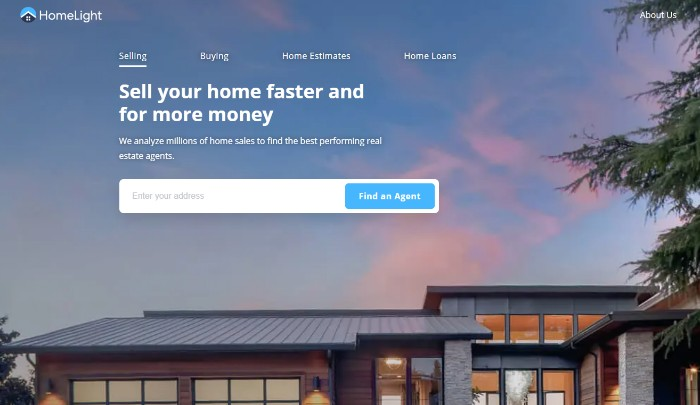 To be a part of HomeLight, you sign their referral agreement. Then, they assess your transaction history; they want to see your quantity and how much you're selling.
ReferralCloud (30%)
ReferralCloud doesn't charge for signing up, but it does charge a 30% referral fee once the transaction closes. This is a national referral coordination service, so agents who have referrals can sell referrals to other agents.
25% goes to the referring real estate agent, while 5% goes to ReferralCloud. And a real estate agent can play both sides, referring leads and accepting them.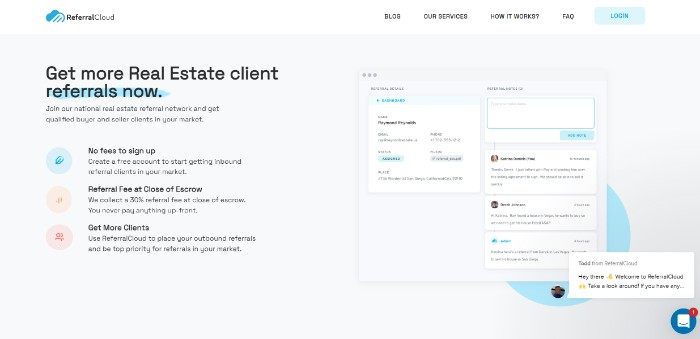 Rather than procuring their referrals, they shuffle them on. So, they don't have stringent requirements for signing up, but the quality of their leads can vary. If you already have a successful real estate business, ReferralCloud can be a way to sell some of your leads.
ZillowFlex (35%)
Zillow Premiere Agents can take advantage of ZillowFlex, a program that sends real estate agents qualified leads. Also, Zillow has a very effective network to generate leads, even if its real estate leads aren't always well-qualified.
Zillow will track your performance and start directing leads based on that performance. They don't go through substantial steps to qualify the buyer; they ask a few qualifying questions, such as when they'll be ready to buy.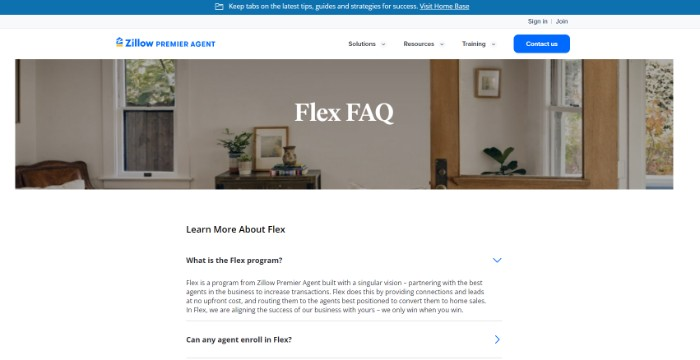 But note that Zillow is very competitive. It may not matter for successful real estate agents, but many real estate professionals will find themselves competing for fairly low-motivation clients.
RedFin (30%)
RedFin's referral network is more of a matchmaking system. RedFin lets you post your information on their page, and interested buyers and sellers can view your profile. Some brokers may already have partnerships with the platform.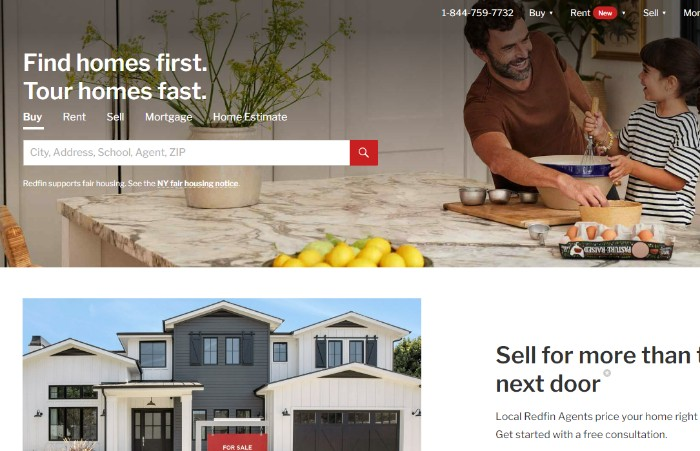 Real estate professionals must have an active license (in good standing), a "fair" number of transactions, and proven excellence. Over time, you'll receive reviews and ratings on the RedFin platform, boosting your reputation.
For those new to real estate sales, RedFin allows you to build your brand and get exposure. You shouldn't rely on it as one of your major real estate marketing strategies, but using the platform to generate leads doesn't hurt.
Realtor.com's ReadyConnect Concierge
In ReadyConnect concierge, Realtor.com will pre-qualify leads and connect them to you with critical information such as their location and price point. That being said, there's not a lot of information available regarding Realtor.com's fee structure. Instead, it appears to be negotiated based on the brokerage. So, it could be better than 25% real estate leads, depending on the power of your broker.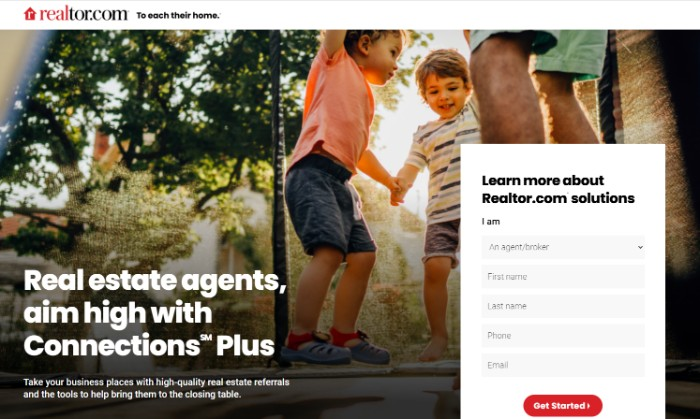 UpNest (30%)
UpNest provides pre-screened leads, both buyers and sellers. Agents will be charged 30% at the end of a successful transaction. UpNext is one of the most popular real estate referral sources available.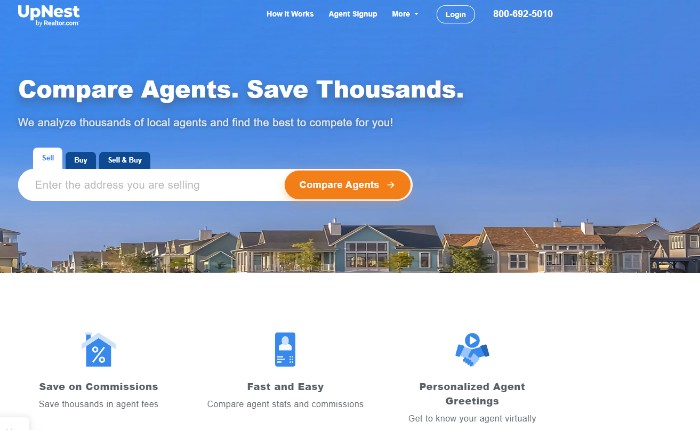 Agents with UpNest must have at least three years of real estate experience, six transactions within the last year, and knowledge of online marketing. If you have full-time experience selling real estate or in real estate buying, you should be able to meet these qualifications.
Rocket Homes
Rocket Homes invite agents in all 50 states to join their partnership network. They connect pre-approved buyers with agents, which is valuable. These buyers have already gone through the process of becoming pre-approved with Rocket Mortgage. However, exactly how much Rocket Homes charges as a referral fee is unclear. There is no referral fee for clients referred to Rocket Mortgage.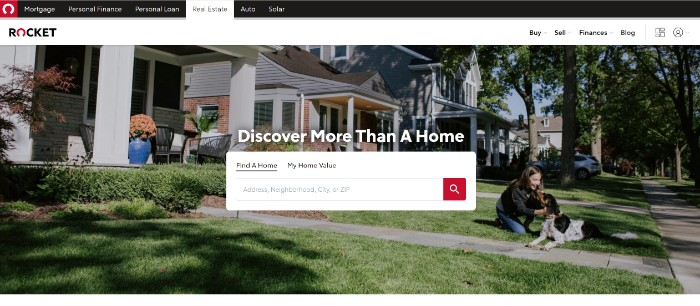 Agents with RocketHomes must
work for an eligible brokerage,
have at least two years of experience as a full-time agent,
have eight closed transactions in the last year,
55 Places
If you specialize in senior housing, consider 55 Places. 55 Places has a Partner Agent program that's entirely referral-based, with no upfront or monthly costs. You don't pay per lead, and you have access to qualified referrals for individuals looking for retirement homes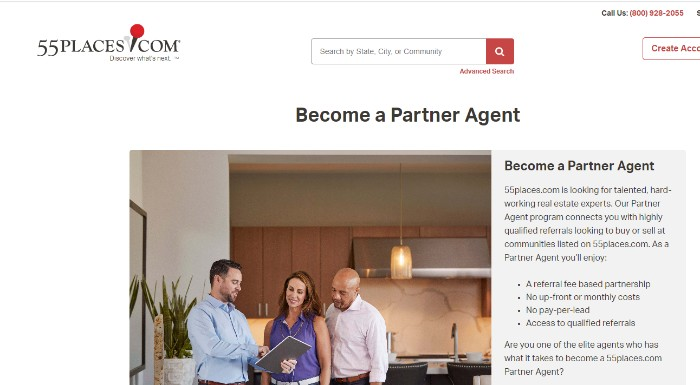 It's required that you be an agent in good standing. You need to know the communities you're interested in representing very well, and you should be able to connect and communicate with the senior community. You will also be expected to respond quickly to any leads.
OJO (Up to 35%)
OJO's Select Agent program is another no-upfront-cost program that introduces agents to potential clients. The OJO Concierge Team vets these clients, so you know the clients coming to you are committed. Referral fees will never exceed 35% but may vary depending on the market. OJO also accepts teams as well as individuals.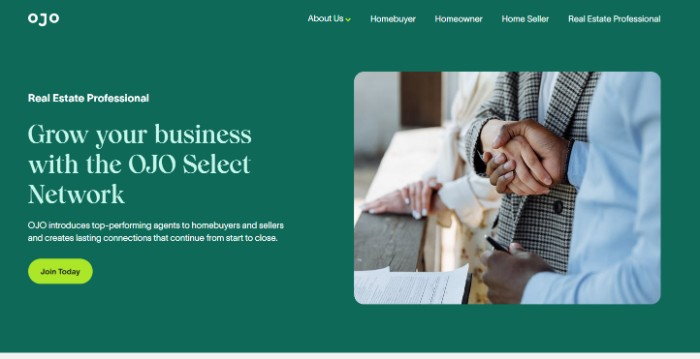 OJO differentiates itself from other lead-generation platforms by using AI technology to connect agents and clients. Further, OJO goes out of its way to source leads, rather than just collecting them, such as Zillow or RedFin.
To join OJO, you must have at least 3 years of experience within the real estate industry. Furthermore, OJO is a little more demanding than other platforms; you need a minimum of 25 transactions within the last 12 months.
Should You Work With Multiple Referral Sources?
Successful real estate agents know they should always generate new real estate leads. Whether you generate leads from 2 sites or 40 sites, the important thing is that you're always generating enough.
Referral sources don't have exclusivity. You should use multiple sources of real estate leads to develop your real estate marketing strategies. Nothing is lost as long as you're not paying upfront to generate real estate leads.
Now, there's one caveat. If you can't keep up with the contacts and the real estate sales, you may need to ease back on your real estate lead generation. Sign up for as many real estate referral sites as you can manage. They may demote or close your account if you start faltering on a site.
Alternatives To 25% Lead Referral Sources
You can always get leads on your own. The most significant alternative is to ask around. Word-of-mouth referrals frequently cost you nothing.
Other sources of real estate referral include:
Social media platforms such as LinkedIn, Facebook, and Twitter
Networking with other agents in the area
Cold calling
Hosting open houses
Creating your website or blog to draw customers
Advertising on search engines like Google.
There are certainly other lead referral sources out there, but 25% lead referral sources have an interest in your success. They can sink significant money into marketing to generate leads directly to you.
Finding The Right 25% Real Estate Lead Source
How can you tell whether a real estate lead source is legit or a scam?
There are many reputable sources with reasonable fees and quality leads. But there are also a lot of scams.
Check the Better Business Bureau. The BBB rating will tell you whether significant complaints have been levied against the organization.
Avoid paying a hefty upfront fee. If you don't get a lead (or close a transaction), you've lost nothing but some time.
Look at third-party online reviews. Other real estate agents often know best what the experience will be.
Take a look at client reviews. If your buyers and sellers aren't enjoying the process, they won't stay long.
Be clear about the fees. Additional fees could be hidden in the verbiage; always read your contracts carefully!
Ultimately, you want to go where the clients are going. If you know a lot of buyers and sellers are using a specific platform, that's probably where you want to be.
Conclusion
Working with lead referral sites lets you claim money you wouldn't have otherwise acquired.
But you must still be cautious when choosing the referral sites you work with and the leads you want.
Try to develop relationships with a handful of referral sites. You get more leads as you close deals for them (and maintain high customer satisfaction ratings).
FAQs
How do real estate referral agents get leads?
Real estate agents can get referrals by networking, signing up for lead generation sites, and working with their brokerage. Referrals are great because they're generally qualified and interested buyers/sellers, but you do need to pay a considerable fee.
Is it worth paying for real estate leads?
It's almost always worth paying a percentage of your commission for a lead if you aren't too busy to take the lead. But paying for leads upfront is rarely worth it; most pay-for-lead services aren't effective.
How do you get real estate leads in 2023?
It's becoming more competitive, and the market is uncertain, but that means you must be a little better than the competition. Concentrate on networking, marketing, and building your personal brand so the leads come directly to you.
Would You Like To Partner With Me?
I've helped hundreds of real estate agents, team leaders, & brokers all over the country increase their sales, online presence, and create scalable systems. I would love the opportunity to work with you. Together, we can make this year your best yet!